Verden på norsk - UiO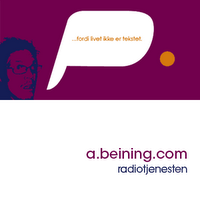 INTRO:
Internasjonal Student Union, ISU, kritiserer Universtitet i Oslo for manglende informasjon på engelsk.
"At Universitetet i Oslo prøver å tiltrekke seg internasjonale studenter og ikke har tilstrekkelig informasjon på engelsk er rett og slett håpløst, uttaler internasjonalt ansvarlig i Studentparlamentet i Oslo, Ole Andre Gjerde. Radiotjenesten tok turen til Simon Ditlov som jobber som intergreringskoodinator ved UiO.
UTRO:
Vi i Radiotjenesten er gleder oss over all norsk undervisning, hvor hen den måtte befinne seg i verden, da flere vi kunne forstå norsk og dermed bli Radiotjenesten lytter!
It was broadcasted the 31.8.2007 on Radio Nova FM 99,3 at 12.30.
Download / Listen here!
Subscribe to this podcast via iTunes!
Labels: podcast