Create your own RSS feed readers easy
Like many other I wanted to have RSS feeds on my website, in this case my Twitter feed on my blog. Not having the normal Blogger template, I wasnt able to use the Blogger feed widget. So I had to look elsewhere. Finally I found an article listing up a bunch of different, easy to use RSS feedcreators that dont need programming skills.
Robin Good wrote them.
After reviewing most of them I concluded that
FeedSweep
and
SpringWidgets
where the easiest to use. Both are free btw. Though the SpringWidget has nice scrolling, it doesnt really integrate well visually (I find) with the rest of my site, so I ended up with FeedSweep. It has a great easy to use editor, with loads of options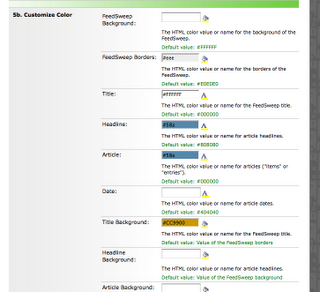 , such as border colors, font size, etc.
I only have sometimes some trouble saving the feedreaders. I guess you cant get it all..
Anyways, good luck!