Can an old Mac without the Apple Remote use FrontRow?
The
Remote Buddy
application supports just about any remote hardware that is available for the Mac. Its kind of like a pimped up version of FrontRow.
Here is the video showing all features
. The site has a good overview over all possible hardware solution for enabling remote control over old Macs.
One altenative is the Keyspan Express Remote Control sold at Amazon for $46.24. (white image)
Or one can buy an original Apple Remote, around 20 Dollar, and then buy a IR receiver. This one is enabling the Apple Remote for every old Mac without IR with Twisted Melon's Manta TR1.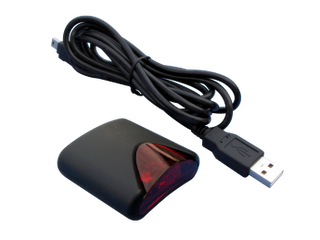 Broken Apple Remote for your Mac with IR and bought a new remote? If your Apple Remote has been locked to your Mac, it must be unlocked: Apple icon -> System Prefs - > Security -> And if it is connected to your Max: This Mac will only work with the connected remote. Click: Delte connection (not quite sure about the specific wording.. :)